Every March, as the sun starts to peek out from behind the winter gloom, I feel the itch for sunscreen and flip-flops start to creep up inside me. Summer is my love language and shopping for swimsuit season is my guilty pleasure.
There is no question around here that shopping during swimsuit season is one of our favorite ways to get excited for what's coming. As the weather keeps warming up, I find myself dreaming of lazy days by the pool and long weekends at the beach. And luckily, my little lady loves summer just as much as I do. Each year, we are tasked with convincing her dad that you can never have enough swimsuits. And while I am a girl who loves my casual capsule wardrobe, swimsuits are where I really splurge each year. We simply can never really truly have enough.
We have spent weeks scouring the internet looking for the lead contenders for this year's swim-suit lineup and I am so excited to share them with you! This year is going to be all about polka-dots, stripes, classic colors, and fun styles. And of course…comfort. It wouldn't be us if we weren't actually looking for clothes you can live in…cannonball! We know you can look and feel good at the same time.
We also included some of our favorite poolside accessories. Enjoy ladies!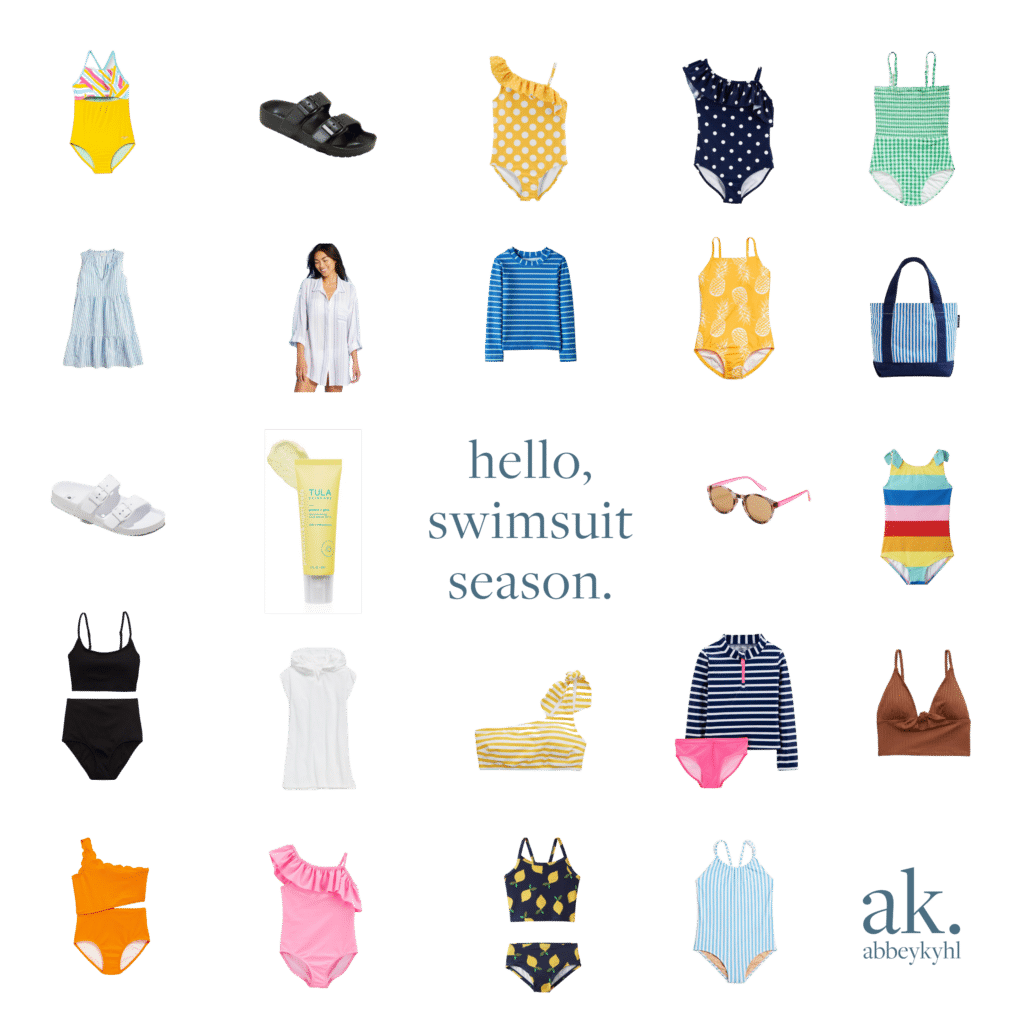 ivy's favorite suits
#1 Yellow Polka Dot – Carters | #2 Orange One-Shoulder – Old Navy | #3 Navy Polka Dot – Carters
#4 Rainbow – Hanna Andersson | #5 Blue Striped Tankini – Hanna Andersson | #6 Blue Striped Rash Guard – Hanna Andersson | #7 Blue Striped Bottoms – Hanna Andersson | #8 Yellow Pineapple – Old Navy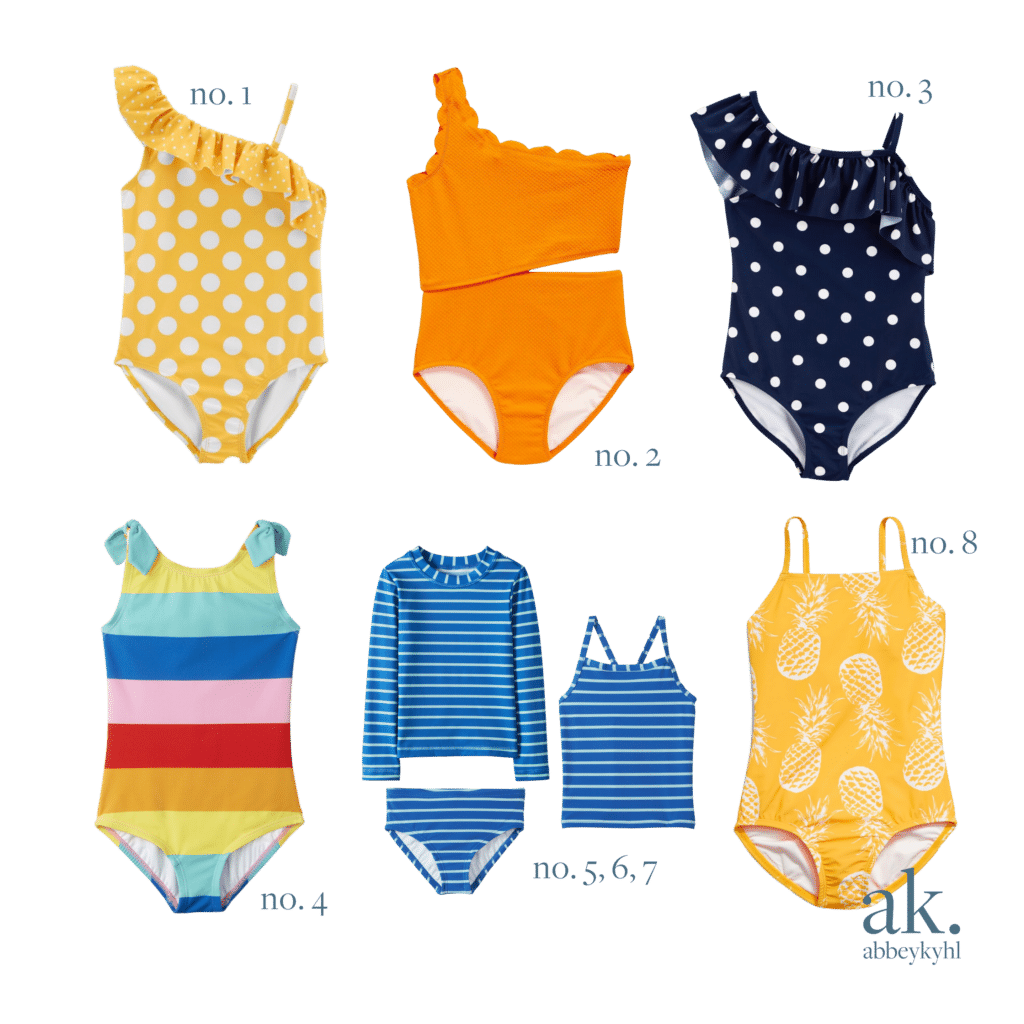 #9 Pink Ruffle – Carters | #10 Blue + Pink Two Piece – Carters | #11 Green Gingham – Old Navy
#12 Lemon Tankini – Hanna Andersson | #13 Blue Stripe – J.Crew | #14 Yellow Speedo – Target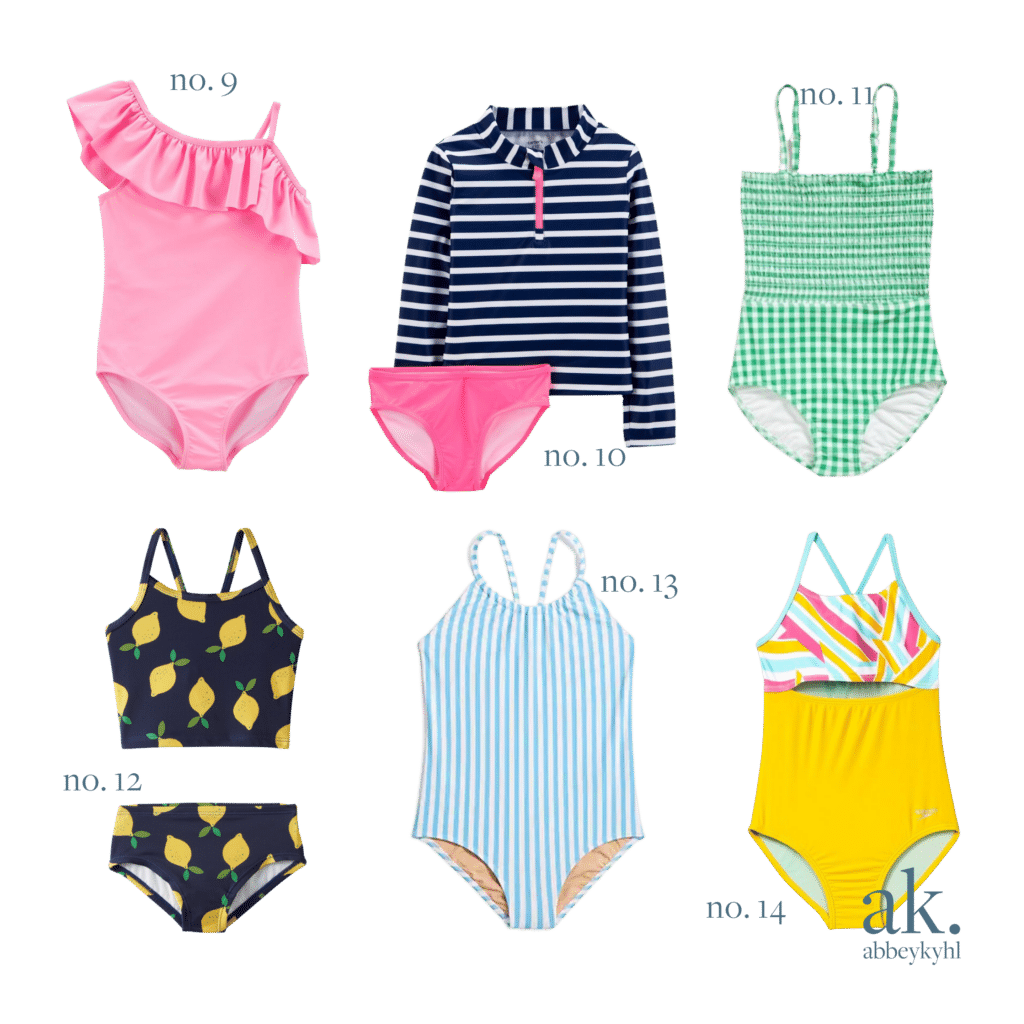 abbey's favorite suits
#15 Tie-Front Triangle Bikini Top – Aerie | #16 Longline Scoop Bikini Top – Aerie
#17 Asymmetrical Bandeau Bikini Top – Aerie | #18 High Waisted Bikini Bottom – Aerie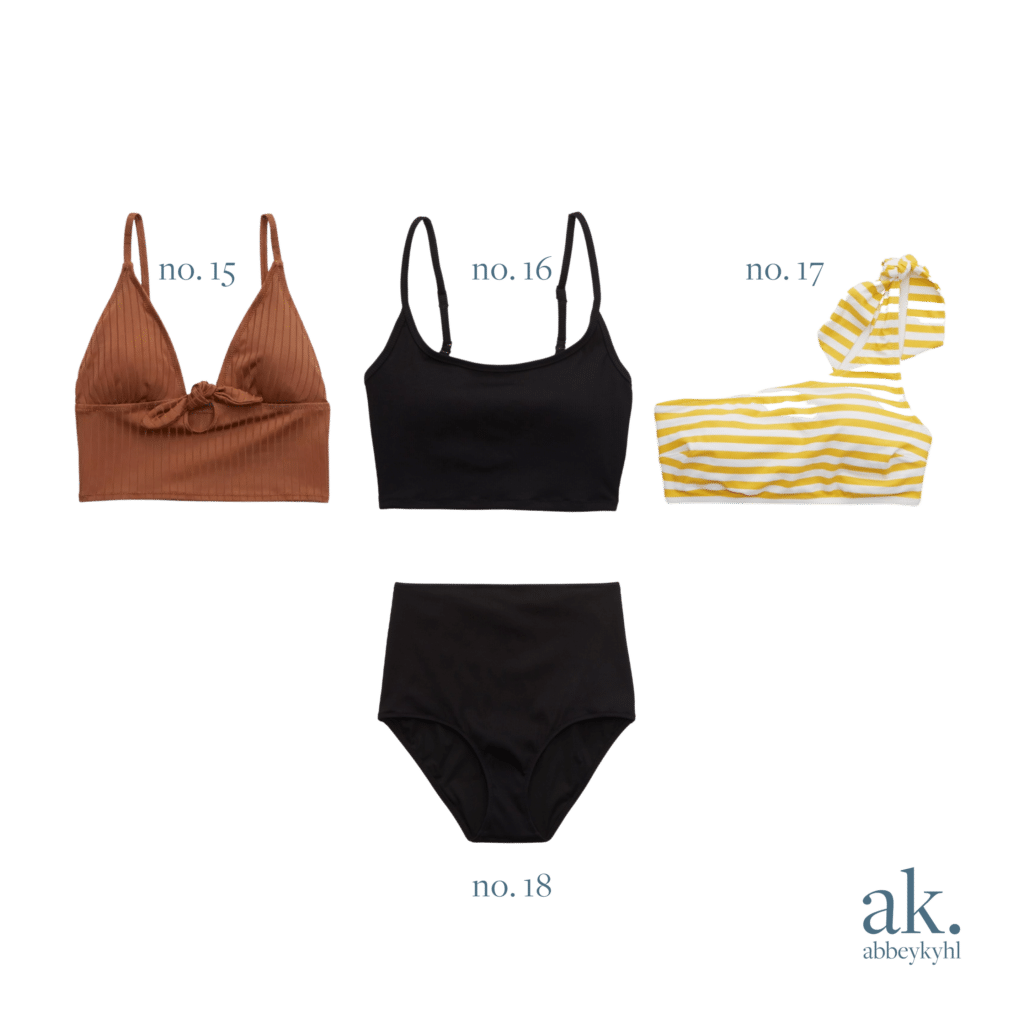 simple cover-ups we love
#19 Button Up Cover-Up Shirtdress – Target | #20 White Terry Pullover – Old Navy | #21 Striped Swim Cover-Up – J.Crew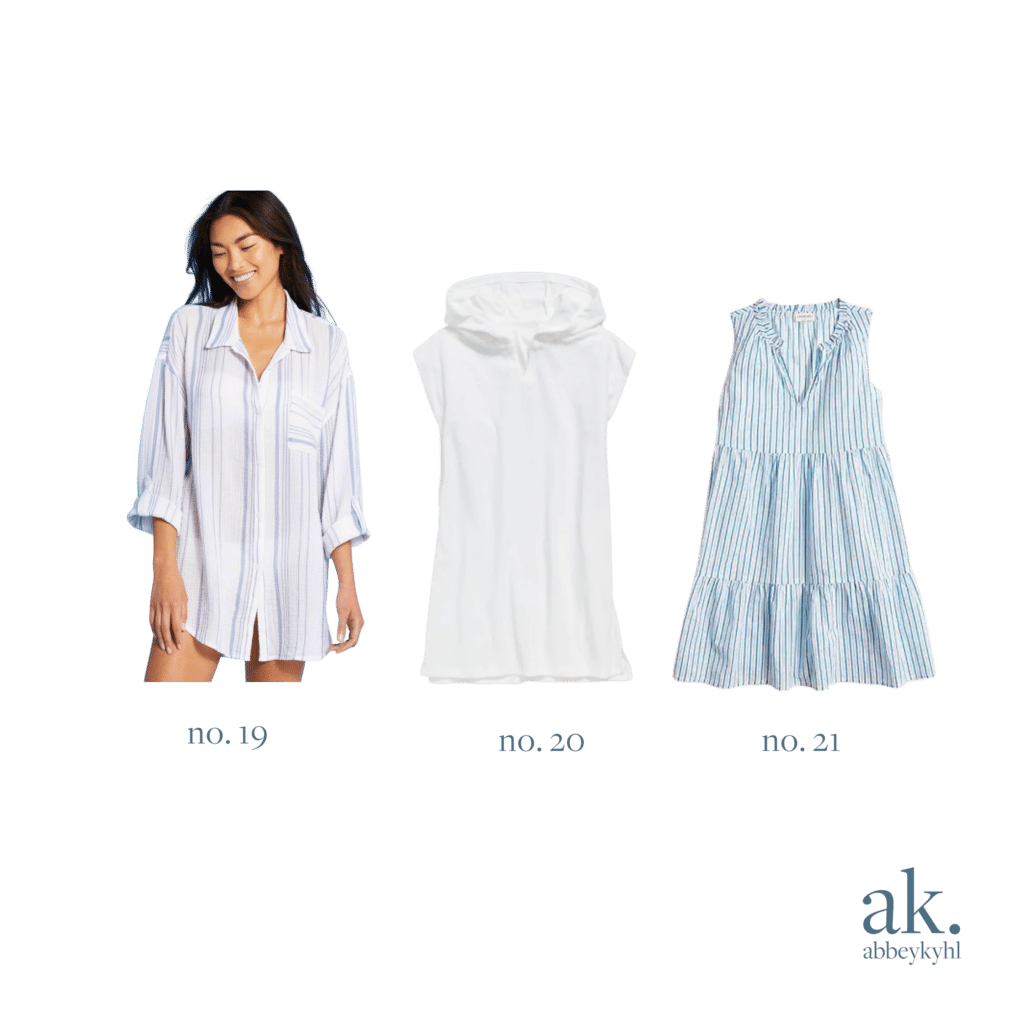 must-have poolside accessories
#22 XL Yellow Beach Towel – Dock & Bay | #23 Tortise Kids Sunglasses – J.Crew | #24 Daily Sunscreen SPF 30 – Tula
#25 Mommy + #26 Me Matching Sandals – Target | #27 Small Beach Bag – J.Crew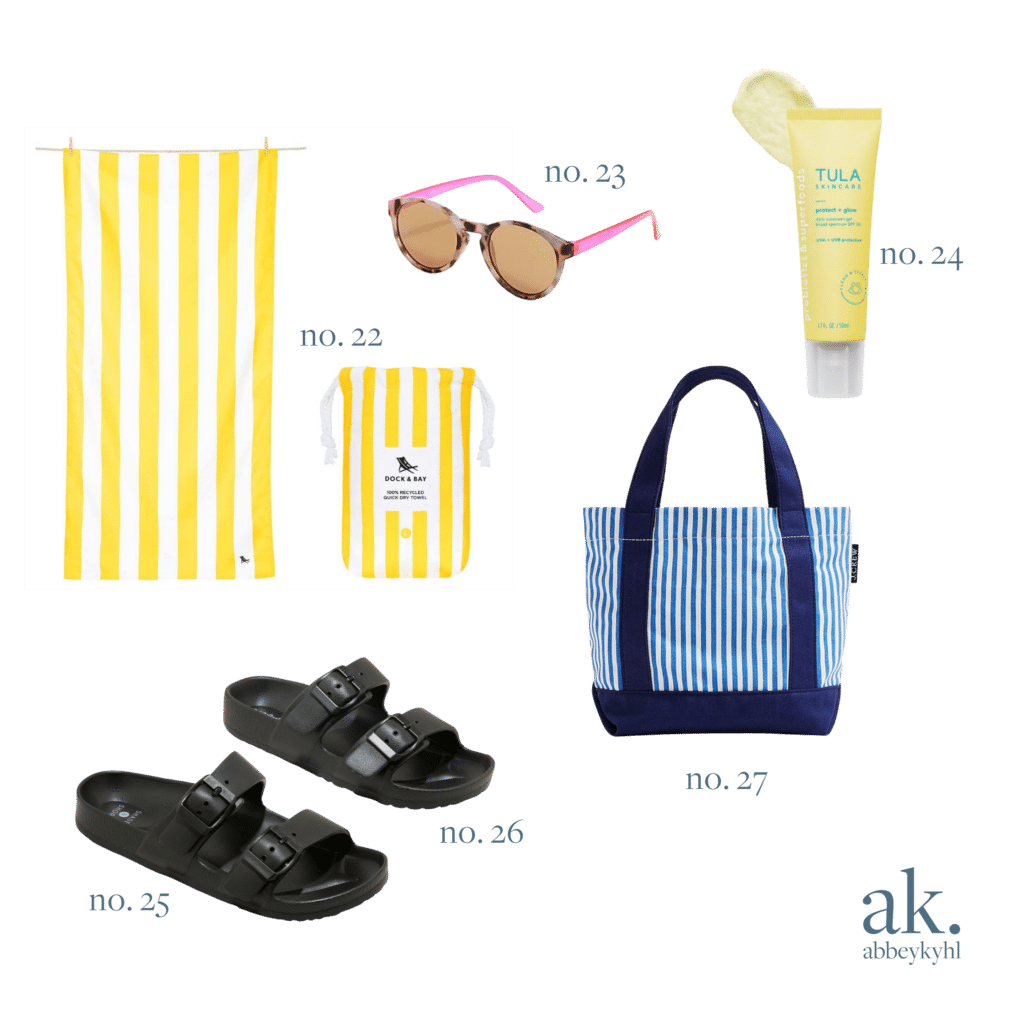 shop the looks