This year I have a goal…to go mostly make-up free. I just have always been a simple girl who loves a simple routine. So in order to go mostly makeup-free, it's really important that my skin looks great. The last few months, I've been on the hunt for a skincare routine that was simple to follow and made my skin look great.
In my search for an easy routine with clean products (which I am trying really hard to use more of in my life), I came across Tula! I really wanted to try their daily SPF, so I thought I would just give a handful of products a try. Let's just say I am a big fan! The routine is simple, you don't have to use a lot of products, and everything is a really good price.
Another thing I am loving about Tula, I was able to get the six products below for less than the four products I was using before from another line. And all of the Tula products last much longer. They also make my skin feel so bright and fresh.
So what's in my Tula must-have kit? These six products below are my current favorites:
The Cult Classic – Purifying Face Cleanser: This cleanser is just so simple and clean. My skin has felt refreshed and clean every time I have used it. It's gel-based and doesn't feel stripping or drying. I also love that it is full of prebiotics, probiotic extracts & turmeric which leaves my skin feeling purified, clarified & balanced.
Triple Vitamin C Serum + Vitamin C Antioxidant Brightening Moisturizer: I am a big fan of all things vitamin C. I feel like it makes my skin look dewy and not dull. Vitamin C also reduces dark spots and as a girl who spends a lot of time in the sun, this is a must for me. The serum is so smooth and not sticky at all and the moisturizer is so hydrating without feeling heavy. I also love that both are jam-packed with so many good things. Prebiotics plus probiotic, lychee & mango extracts, mandarin orange & tranexamic acid. I'm loving that you don't have to use very much of either of these products to feel fully covered and see results.
Protect + Glow Daily Sunscreen Gel SPF 30: A good face sunscreen was really what prompted my desire to start looking for a new skincare line and this SPF was what sealed the deal for me. It is the best I have ever used. This broad-spectrum sunscreen provides skin with daily SPF 30, as well as protection from the damaging effects of pollution & blue light—a must-have for me.  With probiotic extracts, pineapple & papaya, the sunscreen smells great and goes on so smooth. Doesn't feel shiny or greasy. I love how dewy, not greasy, my skin looks. And with Protect + Glow, I don't even feel the need to put on face makeup.
Cooling & Brightening Eye Balm: I wasn't sure if I would really love the eye balm, but I am totally sold on it now. It hydrates, cools & helps reduce of fine lines around my eyes. It also doubles as a highlighter for a rosy, glowing finish. Another product that is helping me towards my mostly makeup-free goal.
Detox In A Jar Exfoliating Treatment Mask: I feel like my skin needs a good exfoliating mask a couple of times a month and this product totally checks all the boxes. It leaves my skin feeling so good. Also, you can use so little product…so it will last months and months for me. I love how smooth and clean my face feels after I use this!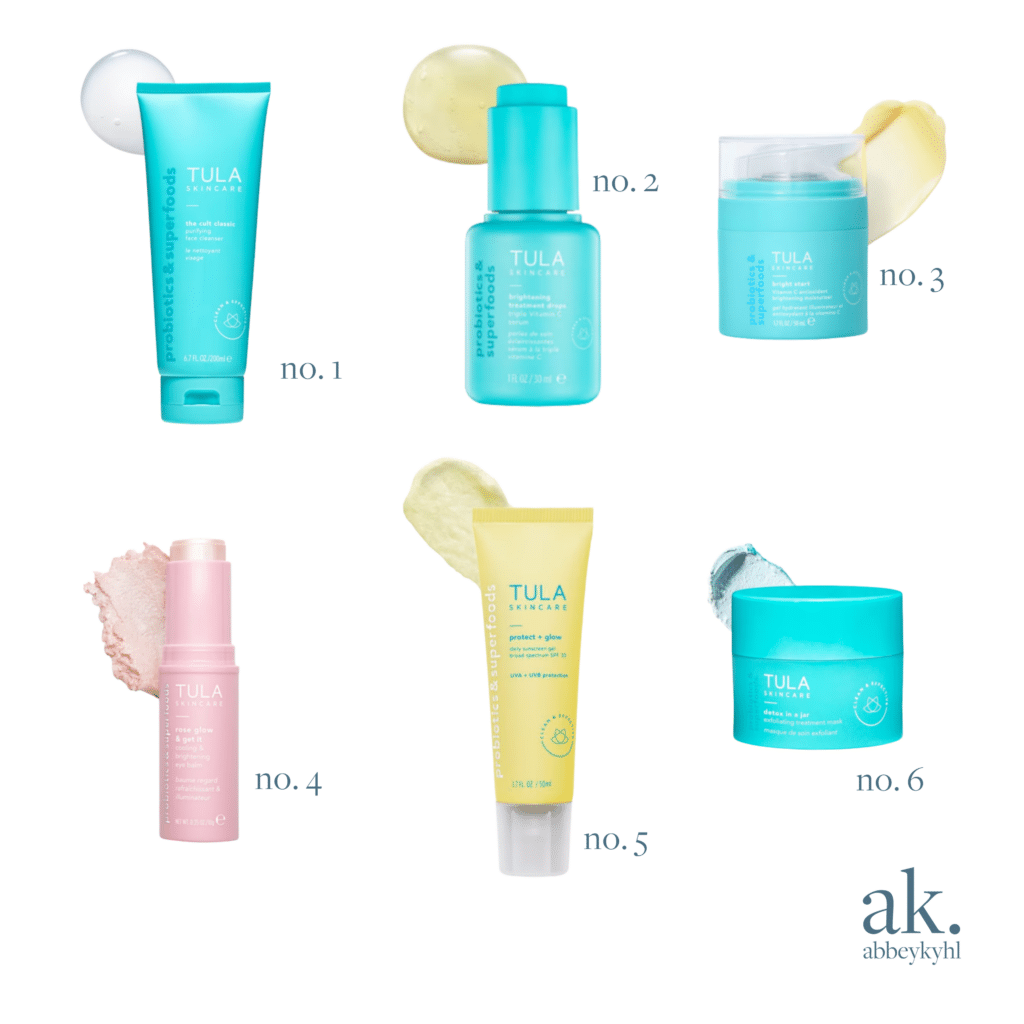 my skincare routine: tula products
#1  purifying face cleanser | #2 triple vitamin c serum |  #3 vitamin c moisturizer
| #4 daily sunscreen gel | #5 cooling + brightening eye balm | #6 exfoliating treatment mask